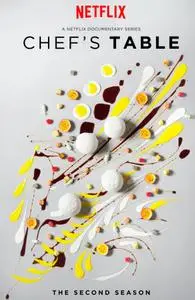 Chef's Table (season 2)
WEB-DL | MKV | 1920x1080 | AVC@8 Mb/s | 6 x 45min | 6 x 2.21 GB
Español / English / Italiano / Français / Deutsch / Português / Polski / 日本語 / Türkçe / 한국어 AC3 5.1
Subtitles: English, Français, Deutsch, Italiano, Español, Português, Suomi, Dansk, Nederlands, Norsk, Polski, Svenska, Türkçe, ภาษาไทย, 官话; 官話, 日本語, العربية, Română, עברית, Bahasa Indonesia, tiếng Việt
Genre: Documentary
In this Emmy-nominated series, meet culinary stars around the world who are redefining gourmet food with innovative dishes and tantalizing desserts.
1. Grant Achatz
Superstar American chef Grant Achatz wants to wow diners with mystery, emotion and magic just as much as he does with flavor and beauty.
2. Alex Atala
Brazilian chef and adventurer Alex Atala relies on his wild spirit and love for the Amazon to show diners how an open mind pays off in deliciousness.
3. Dominique Crenn
French-born Dominique Crenn's love for life, family and personal connection helped her become the first two-Michelin star chef in America.
4. Enrique Olvera
Chef Enrique Olvera transforms Mexico's most savory street foods and traditional ingredients into award-winning dishes at his Mexico City restaurant.
5. Ana Roš
Self-taught Slovenian chef Ana Roš uses ingredients from her remote surroundings to create inspired and surprising dishes.
6. Gaggan Anand
With his passion for reimagining what traditional Indian food can be, celebrity chef Gaggan Anand created the best restaurant in all of Asia.