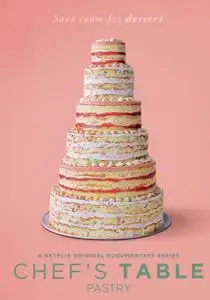 Chef's Table (season 4)
WEB-DL | MKV | 1920x1080 | AVC@8 Mb/s | 4 x 45min | 4 x 3.21 GB
Español / English / Italiano / Français / Deutsch / Português / Polski / 日本語 / Türkçe AC3 5.1
Subtitles: English, Français, Deutsch, Italiano, Español, Português, Suomi, Dansk, Nederlands, Norsk, Polski, Svenska, Türkçe, ภาษาไทย, 官话; 官話, 日本語, العربية, Română, עברית, Bahasa Indonesia, tiếng Việt
Genre: Documentary
Dessert comes first this season as four renowned pastry chefs serve up decadent treats, daring new flavors, and stories of struggle and triumph.
1. Christina Tosi
At New York hot spot Milk Bar, Christina Tosi channels her love of junk food into irresistible treats like cereal-milk ice cream and "crack pie."
2. Corrado Assenza
Inspired by the orchards and farms of his native Sicily, Corrado Assenza turns out rich gelatos, almond granitas, crispy cannoli and other delicacies.
3. Jordi Roca
When a twist of fate left Jordi Roca in charge of pastry at his brothers' famous restaurant, he stunned everyone with his wildly inventive creations.
4. Will Goldfarb
After rocketing to fame with his avant-garde desserts, Will Goldfarb abruptly left New York for a new start in Bali, land of fresh cocoa and vanilla.