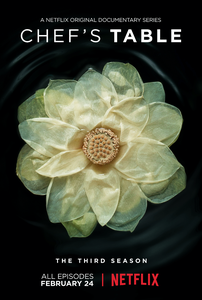 Chef's Table (season 3)
WEB-DL | MKV | 1920x1080 | AVC@8 Mb/s | 6 x 45min | 6 x 3.81 GB
Español / English / Italiano / Français / Deutsch / Português / Polski / 日本語 / Türkçe AC3 5.1
Subtitles: English, Français, Deutsch, Italiano, Español, Português, Suomi, Dansk, Nederlands, Norsk, Polski, Svenska, Türkçe, ภาษาไทย, 官话; 官話, 日本語, العربية, Română, עברית, Bahasa Indonesia, tiếng Việt
Genre: Documentary
Season one serves up intimate visits with six of the world's greatest chefs in their restaurants from every corner of the globe.
1.
Jeong Kwan
Kwan is a not your regular defined chef. She's living as a monk in Korea. She is connected to the spiritual side of food. Instead of trying to be the best in the world, any sense of ego is stripped from her mind and she cooks from the soul.
2.
Vladimir Mukhin
Russian chef who searches old history books for authentic Russian food to recreate into modern recipes. Very fierce and ambitious chef who wants to be the best in the world.
3.
Nancy Silverton
An American chef describes her life path involving both Los Angeles and Italy, her family and her obsession with bread.
4.
Ivan Orkin
A chef tells his story about dealing with ramen in Tokyo and New York, full of emotions and life.
5.
Tim Raue
A chef from Berlin talks about his childhood, growing up, getting involved with cooking and how he rose to the top of German chefs.
6.
Virgilio Martinez
Magnificently creative and a true visionary, Peruvian chef takes us on a trip through Peru to help us understand his ideas, inspiration and his history as a chef.