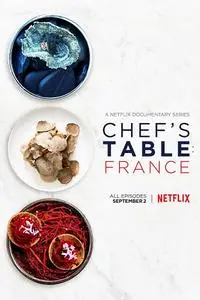 Chef's Table: France
WEB-DL | MKV | 1920x1080 | AVC@8 Mb/s | 4 x 45min | 4 x 2.21 GB
Español / English / Italiano / Français / Deutsch / Português / Polski / 日本語 / Türkçe AC3 5.1
Subtitles: English, Français, Deutsch, Italiano, Español, Português, Suomi, Dansk, Nederlands, Norsk, Polski, Svenska, Türkçe, ภาษาไทย, 官话; 官話, 日本語, العربية, Română, עברית, Bahasa Indonesia, tiếng Việt
Genre: Documentary
Discover the power of garden-fresh flavors and culinary ingenuity with chefs Alain Passard, Adeline Grattard, Alexandre Couillon and Michel Troisgros.
1. Alain Passard
Legendary chef Alain Passard rocked the culinary world when he rebooted his three-Michelin star Paris restaurant to focus on vegetables, not meat.
2. Alexandre Couillon
Driven by an innovative spirit and inspiration from the sea, chef Alexandre Couillon transformed an island cafe into an unlikely culinary hot spot.
3. Adeline Grattard
At Yam'tcha, chef Adeline Grattard pairs Chinese cooking techniques with iconic French ingredients to create singular new flavors.
4. Michel Troisgros
Born into a cooking dynasty, Michel Troisgros faced a daunting challenge: how to steer his family's world-renowned restaurant in a bold new direction?